An overview of MS Teams Calling for New Zealand businesses
In July 2021, Microsoft released Native Teams Calling to New Zealand. For those Kiwi businesses already using Microsoft environments and looking to further streamline their business processes, this release was welcomed news.
MS Native Teams Calling makes it possible for businesses to continue landline calls as normal, without location-specific barriers. It removes the costly overheads and complicated set up of traditional telephony systems (PBX and VOIP) making calling more efficient and manageable for teams already using a Microsoft environment.
Teams calling has the tools to help businesses eliminate complexities from their IT infrastructure and in this 'new normal' the more integrations available throughout business systems the better. With Teams Calling, organisations and businesses of all sizes can enjoy remote access and complete transparency across their business.
But how does it all work? And is it right for your business?
In this blog, I've broken down the key features of Native Teams Calling, its advantages and its costs in an effort to give you a clear overview of if Microsoft Teams Calling is the right telephony system for your business.
Key features of Microsoft Teams Calling
When you migrate your phone system to Teams Calling, you're not only getting a simplified telephony system but a mobile one too. With flexibility and mobility now a requirement for businesses because of the pandemic, migrating communications to a cloud hosted telephony system not only reduces overheads but increases communication efficiencies too.
On top of increased efficiency and reduced overheads, Teams Calling, when integrated with the other Microsoft products, can simplify call time for both employees and customers. Basic features include 1-to-1 call recording, integrated note taking, call queues and audio conferencing.
To add to that, MS Teams Calling can also reduce the administrative burden commonly associated with traditional telephony systems. With Teams Calling, businesses can also utilise auto attendants, cloud voicemails, and website click to calls.
If your business operates at a more complex level, Teams Calling offers a range of third-party integrations that can accommodate more advanced communication regimes needed for the likes of customer contact centres.
Is Microsoft Teams Calling right for your business? Key advantages worth noting
If you're already using an MS environment like 365 or are looking to migrate or implement one then chances are, Teams Calling is the right telephony choice for you. On top of the features already listed, here's how Teams Calling is helping its customers streamline their business communications.
Remote cloud calling
Remote working is a well-understood requirement for workplaces today and fortunately, MS Teams Calling can seamlessly enable this for customers, helping them work efficiently from anywhere.
How does it work?
Microsoft will essentially become your phone service provider. It allows users to call out from their computer or Microsoft phone application to actual cell phone and landline numbers.
Centralised management
MS Teams Calling can be centrally managed through your business's existing Microsoft environment supporting your team for more efficient processes.
How does it work?
Provision users, assign phone numbers, and port existing numbers from your Microsoft 365 admin console.
Integrate advanced third-party applications
MS Teams Calling boasts useful call centre functionality like its auto attendant and call flow features. Alongside this, it can also integrate with more complex call centre software systems offering businesses a more cohesive operation.
How does it work?
Choose from existing third-party applications or custom develop your own integration with tools such as Visual Studio Code or TeamsFx CLI to bring in the information you need before, during, and after calls.
How much does Microsoft Teams Calling cost?
For any business, cost is a huge consideration. Like with many SaaS products, the cost of Teams Calling varies depending on the functionality you need.
Looking at a high level first, the monthly recurring costs per unit in NZD (excluding GST) as of 18 May 2022 are as follows:
| | |
| --- | --- |
| Licenses | RRP |
| Phone System | $12.10 |
| Domestic Calling Plan (120 minutes) | $9.10 |
| Domestic Calling Plan (1200 minutes) | $18.10 |
| Domestic and International Calling Plan* | $36.30 |
| Microsoft Teams Rooms Standard | $22.70 |
| Phone System – Virtual User | Free |
*1200 minutes of domestic -OR- 600 minutes of international calling (whichever is reached first in the calendar month)
To help illustrate how these plans look in action, here are some sample user scenarios:
User Type 1 - Main staff who are heavy users of the phone system
Current licensing
+ Phone system
+ Domestic Calling Plan (1200 minutes) OR Domestic and International Calling Plan*
*Note that only users in the same pool share minutes.
User Type 2 - Key staff who aren't heavy users of the phone system but make and receive calls
Current licensing
+ Phone system
+ Domestic Calling Plan (120 minutes)
User Type 3 – Staff who only need to use the phone system to receive a call transferred internally (with no DDI)
Current licensing only
User Type 4 – Staff who can have calls transferred to Mobile and cannot receive a call either via Teams or PSTN transferred to them.
Existing Exchange only users (or higher licenced and not using Teams)
User Type 5 – Reception or similar staff
Use a Virtual User set up to a resource group
It's worth noting that anyone on O365 Enterprise E5 or M365 Enterprise E5 has the phone system included, so only the calling plans are needed in addition.
What do you need to implement Teams Calling?
Depending on the functionality you need, Microsoft Teams Calling is relatively straightforward to implement —especially if you're already existing in an MS environment.
However, in some instances, if you're operating a more complex network infrastructure engaging specialists help to ensure all functionality works as it should, is the best way forward.
Uncover your use case for Microsoft Teams Calling
Teams Calling has a lot to offer New Zealand businesses. The examples I've shared above are just a few of the advantages worth noting — there are endless features and benefits to consider. If you'd like to find out what Microsoft Native Teams Calling can achieve for your organisation, or you'd like to discuss your organisation's network infrastructure requirements — please get in touch.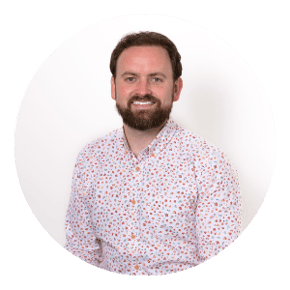 About the author
Royden Burt
With almost a decade in IT, Royden has worked for a leading distributor quickly becoming their expert for both Azure and Microsoft 365 in the process. In that role, Royden brought Microsoft CSP to the market for that business, becoming New Zealand's most successful CSP distributor. Moving to Inde in 2018, Royden bought with him a deep understanding of licensing and procurement and now heads up that specialist team at Inde.