One of Inde's Co-Founders and Directors, Simon O'Sullivan has moved on to his next big venture, a South Canterbury vineyard.
After almost a decade of working tirelessly to help build the Inde brand, Simon has left his role at the Inde Christchurch, New Zealand headquarters as of April 28.
Simon has played a vital role at Inde, from envisioning the unique managerial structure and internal culture to helping maintain client relations and the company's overall growth. The team at Inde will miss having Simon's visionary around but look forward to hearing more on how he plans to implement emerging tech into his vineyard down south.
"I grew up rurally, and I've always pictured myself returning to my grassroots once I had a family. My wife is from France, and we've spent a lot of time in Bordeaux. The opportunity came up for us to purchase a vineyard in South Canterbury, and we thought, now is the time. I've been working hard over the years, and the slower-paced lifestyle was enticing but not an easy decision to make. In the end, my wife, Mathilde and I decided to do it. We're both excited for this new venture," says Simon.
Having worked alongside fellow Co-Founders to build Inde from the ground up, Simon admits the decision was especially difficult with the commercial growth Inde has seen in recent years.
Speaking of his time at Inde, Simon recalls one initiative he is very proud of, the employee ownership model. "Inde is very unique, in that all employees have the opportunity to become shareholders of the business. I have always been keen on the idea of an employee's shareholders trust because it encourages employees to stay engaged and motivated about the work they do, as they're financially involved in the success of the business long-term," says Simon.
Simon has played a massive role at Inde. He has contributed to many of our initiatives and policies we use, founding many of the ideas. Simon was instrumental in winning two large contracts in our formative years, Christchurch Airport support in 2014, and Lincoln University full campus network replacement in 2015. These two contracts both built a path for us to compete at the top level of the New Zealand market. He's had a huge positive impact on getting us to where we are and where we want to be, and his forward-thinking will be missed.
To the team at Inde, Simon would like to pass on his well wishes. "It's a great company and will continue to be really successful. I wish both the company and all the employees well on their journey at Inde and through life."
Thanking his wife, Mathilde, for her years of support, Simon concludes he's ready for the next chapter and looks forward to the challenges it will bring. His first order of business is already well underway: implementing IoT sensors to produce better grapes and wine.
Despite Simon's departure, the progressive initiatives he implemented over the years, including the lattice structure and the employee ownership model will continue to make Inde a unique place to work for years to come.
If you'd like to keep in touch with Simon, please connect with him via LinkedIn.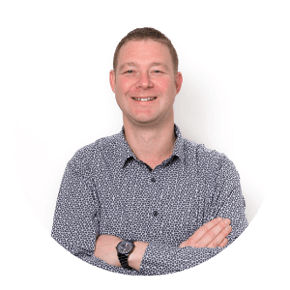 About the author
Mike Fowler
Mike applies the same logic to designing complex IT systems as he does to his aerobatics hobby; precision and focus are key. After a farming upbringing, Mike chose IT at age 20 and never looked back. Mike has a varied background in IT service and delivery spanning 20 years including development, infrastructure management, consultancy and engineering; he brings a broad range of skills and knowledge to the Inde team. Focused on delivering the best enterprise networking team for Inde's customers, Mike and the networking team have successfully completed many network transformations for some of New Zealand's and Australia's leading companies, providing the solid backbone infrastructure required to enable innovation within our customers' IT systems. When not working with customers, Mike enjoys playing in a band, and flipping a Yak-52 aeroplane around the skies on weekends.