Lately, we've seen an acceleration in organisations adopting digital technologies, but digital transformation was on the rise before the pandemic hit. In particular, more and more businesses were moving to the cloud, and that approach has only increased in popularity as everyone adjusts to a whole 'new normal'.
A traditional IT approach means having to deal with:
Aging hardware
Support for legacy systems
Increasing maintenance costs
So what does a cloud-based approach have that a traditional one doesn't? One of the biggest benefits is automation, which isn't as easily achieved when you stick with a traditional IT approach. When you move to the cloud, all the necessary hardware, security measures, updates and administration is taken care of, saving time and money. With a traditional approach, this is all done in-house, which is costly and time-consuming.
Operating in a Cloud native way is the new frontier of business computing allowing rapid delivery of software and applications, challenging the traditional in-house system as a reliable, scalable and cost-effective IT solution.
Here at Inde, we have a saying: cloud computing is a way of operating, not a location. And if you are operating in the right way – then yes, this also includes technology that's on-premise – allowing you significant cost savings because of the superior efficiencies of the cloud adoption. Automation means savings in time as well as money, and again, this applies to a hybrid model of cloud and on-premise.
What it comes down to is this: automation means repeatable processes, which leads to higher quality and more cost-effective outcomes.
With that said, nothing comes without a set of challenges, and this is true of adopting a cloud-based IT approach. In our experience, the main challenge for most organisations is understanding the cost model and structure of adopting cloud. Erroneously, there's a belief that working in the cloud will mean a cost blow-out; what we do at Inde is make sure that there's robust governance around workflows and processes to stop this happening. The key to working successfully in the cloud is good planning and governance, and we ensure both, minimising the risk of security breaches or cost blow-outs.
Moving to the cloud will also give your organisation increased flexibility and business agility. You have the ability to try things out before making decisions, and those decisions are better informed. You can also scale more easily - we call it "breathe in, breathe out". For example, if your business brings on 30 contractors for a limited time, and each of them needs a desktop, this can be achieved quickly and efficiently, whereas with a traditional approach this would be a time-consuming process.
When you move to the cloud, most of your processes become automated. Using a traditional approach, you may have one or two people performing the same task every Patch Tuesday. Why automating these processes and eliminating the manual approach means increased accuracy, predictable outcomes and higher quality results. And of course, the peace of mind that comes with knowing the task will be performed automatically.
So, in a nutshell, automation delivers three key benefits: repeatability, reliability, and flexibility.
Here at Inde, our cloud computing experts will assess your organisation and make sure we fully understand your business requirements. Moving to the cloud is not a one-size-fits-all process; every organisation is different and when we create a cloud migration plan, we tailor it for a business's individual needs. We've managed some of the largest cloud migrations and adoptions across multiple locations, and as technical leaders in our field, we can help you get your business to where it needs to go.
Our approach ensures that your users, management and support staff are taken on the journey together. We are a work-with-you company. We understand that the journey doesn't end once your business has moved some workloads to the cloud.
The evolution and rapid delivery of applications and services over the internet as well as the ability to scale, deploy and consume as a service and on-demand unlocks endless opportunities for organisations to focus on creating customer value, differentiating themselves from competitors, and optimising their business and technology.
If you've been thinking that now is the time to consider a move to the cloud, get in touch and we'll have a chat about your requirements.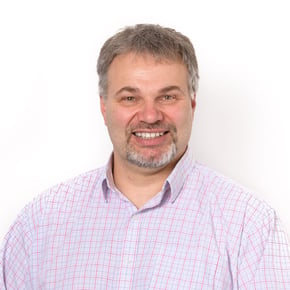 About the author
Jochen Seybold
Jochen's extensive experience in IT around the world, has resulted in him bringing great things to Inde. His range of roles is varied, from Microsoft Certified Trainer, IT Consultant, Lead Architect to Senior Leader of Professional Services. But what he does best, and loves doing best, is helping customers solve problems. And skiing, he loves skiing.